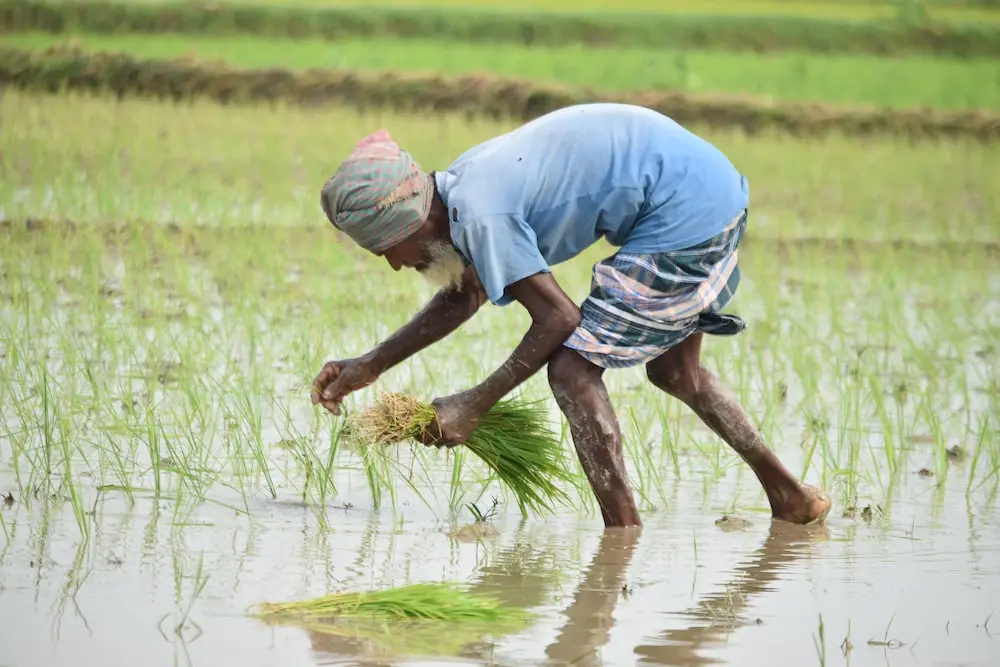 Farmers in Jhenaidah and Moulvibazar are facing great distress due to an outbreak of blast disease, a common fungal infection that has severely impacted their harvest during the paddy cultivation season.
Blast disease, also known as rice rotten neck, is a fungal infection that can affect all above-ground parts of a rice plant, including the leaf, collar, node, neck, panicle parts and sometimes the leaf sheath. The initial signs of the disease are white to grey-green lesions or spots with dark green borders.
The disease has been widespread in BRI-28 and BRI-63 rice varieties, leading to significant losses for farmers in some districts including Jhenaidah and Moulvibazar.
When affected by this disease, the sheaf of paddy becomes dry.

During the ongoing IRRI season in Jhenaidah, paddy has been cultivated on 15,715 hectares of land in Kaliganj upazila. Out of this, the BRI-63 variety has been cultivated on 3,400 hectares of land.
Farmers said some paddy of some farmers of Khamarmundia village of Raigram union got dry recently.
Among them, one bigha of the land of farmer Tariqul Islam, one bigha of Dalil Uddin, two bighas of Momin Uddin and eight decimals of Tapan Kumar Mandal of Raigram village and one acre of land of Paritosh Ghosh have dried up.
Farmer Dalil Uddin said he cultivated BRI-63 rice on one bigha of land. A few days ago, he saw that the paddy field had turned white. Though he sprayed medicine, he did not get any results.

Farmer Ralon Hossain's one bigha of paddy was suddenly rotted. Manjer Ali, a farmer in Manoharpur village, is in the same situation. The paddy on more than two bigha lands of the farmer has been damaged.
However, the deputy assistant agriculture officer and the upazila agriculture officer are unaware of it.
If this disease occurs, the officials concerned have advised spraying troopers of the tricyclazole group.
Deputy Assistant Agriculture Officer Zakaria Raihan said: ″Due to excessive heat, this is happening in the paddy fields. I will look into the matter.″
Kaliganj Upazila Agriculture Officer Md Mahbub Alam Roni said this can happen due to heat, and also due to fungus, the rice can rot and dry up.
He recommends spraying troopers of the tricyclazole group when rotting disease occurs.

Meanwhile, this disease has spread in Hakaluki haor, Sadar Upazila's Kowadighi haor and Sreemangal upazila's Hail haor, which covers Kulaura-Barlekha-Juri upazila of Moulvibazar.
According to Sreemangal Upazila Agriculture Department, boro paddy was cultivated on 11,451 hectares of land in the upazila this year.
Among them, the BRI-28 variety of paddy has been cultivated on 2,651 hectares of land.
The attack of the disease has increased in BRI-28 paddy, cultivated in Uttar Bharaura, Noagaon, Ichabpur of Sreemangal union, Rajanagar, Sirajnagar, Lamua, Uttar Lamua, Kalapur village of Kalapur union.
Besides, this disease has also been found in some lands in some villages of Mirzapur union and Bhunbir union of the district.
During a recent visit, it was found that the paddy has ripened in field after field, but there is no interest among the farmers to harvest the paddy.
Some farmers are cutting some paddy for cattle feed while others are cutting paddy and floating it in canals to clear the land.

Farmers of the areas expressed their frustration.
They said that there was a good yield after cultivating paddy in the beginning. They prepared to cut the paddy. But blast disease recently appeared in their paddy. And that is why these farmers are in distress now. Farmers who cultivated paddy with loans are spending their days in extreme anxiety. They are even worried about food supply.
Due to this incident, the farmers of Hail haor area held a press conference at Sreemangal on Saturday.
They said boro crops are the primary means of livelihood for most of the people in Hail haor. Some farmers cultivated aush and aman paddy but the quantity is very small. Each year's boro rice is the only source of food for the family in the following year. But this time, almost all the paddy in the entire haor region has been rotted by blast disease.

These farmers demanded the government provide seeds, fertilizers and other assistance during the Aush, Aman and Boro seasons for cultivation in the next season.
The agriculture department blames the farmers for spreading the disease.
They claimed that farmers were discouraged from planting BRI-28 rice. Even then farmers cultivated it.
Sreemangal Upazila Agriculture Officer Agriculturist Md Mohiuddin said: "BRI-28 is a very old variety. Farmers were discouraged from cultivating it. Cultivation of BRI-88 or BRI-89 was suggested instead. But farmers planted BRI-28 rice on 2,651 hectares. From there some paddy has been affected with the disease. Then we ask for two rounds of fungicide spray. Their crops were destroyed as they did not follow our guidelines. Besides, some spray medicine was washed away by rain."
He said a list of the affected farmers is being made as a decision will be taken on how to give them support or incentives.
Meanwhile, a special advisory has been issued for farmers in some districts to protect their land from the ongoing heatwave.

According to the information received from the Bangladesh Meteorological Department, a mild to moderate heat wave is sweeping over the above districts and may continue for the next till April 18. There is no chance of rain during this time.
In this situation, the Department of Agricultural Extension (DAE) has given the following suggestions:
- Sufficient water preservation in boro paddy fields is needed to protect paddy from heat wave damage. Two-three inches of standing water must be kept in the paddy till the grain of the paddy sheaf becomes hardened.
- Providing adequate irrigation to the roots of mango trees. If necessary, water can be sprayed on the branches of the tree.
- Arrange two to three irrigations in the vegetable land in the next one week depending on the type of soil.
- Ensuring mulching and irrigation to protect fruit and vegetable seedlings from heat wave damage.