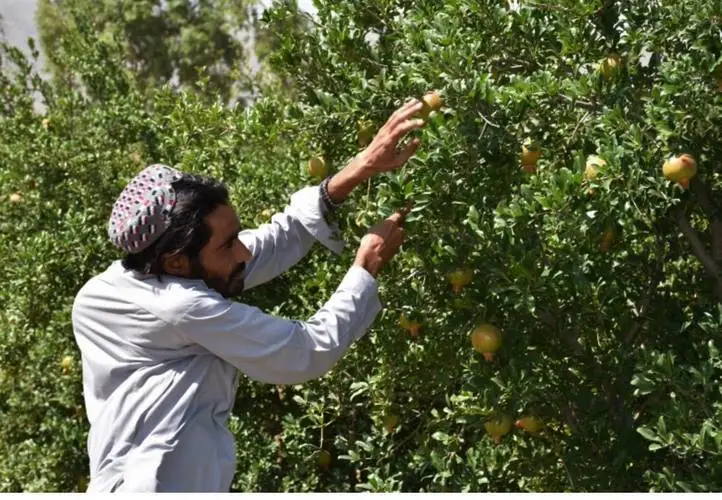 Chinese and Pakistani scientists are collaborating to develop biological control measures to enhance the quality and quantity of citrus fruits in Pakistan.
To this end, a research centre was launched in the two countries in 2018 to jointly explore green and sustainable solutions to the growing prevalence of citrus diseases across the South Asian nation. Speaking to China Economic Net (CEN), Prof Dr Qiu Baoli and Prof Dr Shaukat Ali, director and deputy director of the China-Pakistan citrus pest management centre, said that while chemical measures can provide quick responses to citrus disease outbreaks, they also increase the resistance of pests against pesticides, posing grave environmental and health threats.
The researcher told CEN reporter that the centre, initiated by South China Agricultural University and Sargodha University, has undertaken four strands of research work to produce environmentally friendly solutions. The first line of research, Dr Qiu and Dr Ali noted, focuses on the use of ″lure and kill″ technology to dispel pests. For example, the researchers have investigated how different types of traps and lures will affect the efficacy of capturing pests in citrus orchards across six citrus-producing Pakistani cities.
Dr Qiu said that the researchers have also been developing technologies to breed parasitic wasps and predatory insects, which are natural enemies for citrus pests. ″So far, we have discovered 22 new species of predatory insects and reported 7 new genera and 2 new subgenera,″ he noted. ″In addition, the centre has been researching biological pesticides for emergency control. We aim to develop commercial formulas for entomopathogenic fungi targeting citrus pests and evaluate their toxicity under laboratory and field conditions,″ Dr Ali told CEN, adding that strides have been made in the investigation and evaluation of Pakistan's entomopathogenic fungal resources. Dr Qiu noted, ″To effectively combat the pests, we will also develop a comprehensive pest management approach that combines various pest control strategies. The technology mix will be tested in citrus orchards in Pakistan for demonstration and promotion.″
Meanwhile, the Gansu Academy of Agricultural Sciences and Sindh Agricultural University have signed a memorandum of understanding for the China-Pakistan flax research and innovation hub. ″Our new flax varieties, the Longya series, are all selected according to the climate conditions of dry with little rainfall in Northwest China. In the planting experiments, the yield is generally more than 10 percent higher than that of the local varieties, and the resistance to diseases and insect pests is stronger. At present, Longya No. 11, No. 14, and No. 15 have been planted in Pakistan preliminarily. I firmly believe that the Longya series should be able to exert a good effect of drought resistance and increase yield under the climate conditions of Pakistan,″ Zhao Wei, Researcher at the Crop Research Institute of GAAS, indicated in an interview with China Economic Net.
″It is a variety most Pakistani farmers are not familiar with but it can produce edible oil much needed in the country″, project leader Abdul Ghaffar Shar, a doctoral candidate of Northwest A&F University who has been studying in China for nine years told CEN, adding, ″Experiment has started at SAU, Tandojam. Flaxseed contains 35-44 percent oil. The seed oil, rich in unsaturated fatty acids mainly linolenic acid, serves as a nutritional supplement, in addition to its huge role in coatings, textiles and animal husbandry. Flax is a promising economic crop.″
As Abdul Ghaffar Shar pointed out, the average production of flaxseed in Pakistan is as low as 692 kg per hectare because of less soil fertility, blind use of fertilizers, lack of high-yield hybrid varieties and old cultivation practices. Looking into the importance of edible oil and low yield of oil crops in Pakistan, it is vital to focus on the short- and long-term studies on imported potential hybrid flaxseed varieties suitable for cultivation under the soil and climatic conditions of Pakistan. ″Our experiment will be conducted in the greenhouse of the Department of Soil Science, SAU Tandojam to evaluate Chinese flaxseed hybrids for better growth, grain, and oil yield under different fertilizer doses,″ Shar added.
Furthermore, Zhao Wei emphasized the current planting area of the Longya series accounts for about 1/3 of the flax area in China, and about 3.3 million hectares has been planted in the main flax producing areas of the country, with an increase of more than 300 million kg of flaxseeds and an increase of more than 1.5 billion yuan in output value. It has made important contributions to the poverty alleviation of farmers in arid and barren areas in Northwest and North China. In this regard researchers from the two countries should have a lot of experience to exchange.
Up to now, Dr. Abdul Ghaffar has proposed the saline-alkali land improvement technology of applying desulfurized gypsum, as well as the technology of precise application of organic fertilizer, which have obvious effects on local soil improvement. More than that, he pointed out that the identification of salt tolerance in the germination stage of flax seeds as the key, and proposed an effective identification method.
The good news is that the Technical Regulations for Flax Cultivation in Saline-Alkali Land drafted by the team has been officially implemented, and a rapid identification method for salt tolerance of flax seeds during germination has been authorized as a national invention patent in 2021. ″In addition to flax cultivation, our value-added products, such as α-linolenic acid capsules, eye care solution, as well as technical achievements such as flax seeds used as livestock feed to increase the content of α-linolenic acid in milk and meat, can share the experience with Pakistani counterparts to develop more products suitable for the local market.″ Researcher Zhao told the reporter that through tireless efforts of Dr. Abdul Ghaffar, they have a deeper understanding of the flax industry in Pakistan. To their surprise, the protection and application of flax resources in Pakistani universities is impressive. ″Next, we hope to carry out more exchanges on the innovation of stress-resistant germplasm resources of flax and the selection of new varieties.″