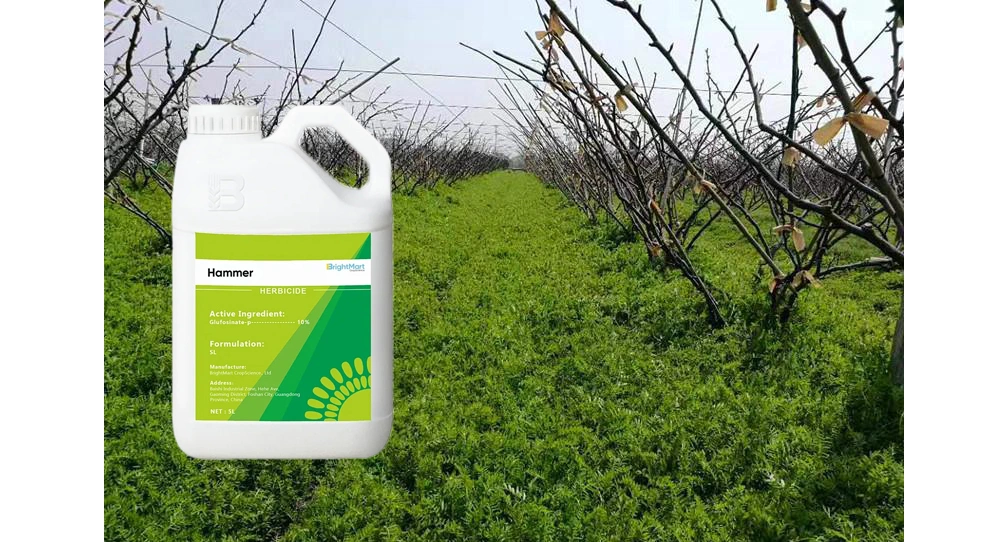 As temperature rises and rainfall becomes abundant, the weeds in the fields also enter a period of vigorous growth. The high-risk period for weed damage in the spring is about to begin. It is recommended that growers promptly select herbicides that are less affected by temperature, have a high safety factor, and are more effective in order to protect crops from weed damage.
Glufosinate-p does not harm soil or roots. In addition to providing outstanding weed control effects, it can also reduce the harm of chemical substances to soil compaction and crop health. It is safe for both current and afterreap crop, has low drift, and is safe for adjacent crops. It can be used in orchards, vineyards, rubber plantations, non-cultivated land, and other fields to prevent and control more than 100 types of annual and perennial broadleaf weeds and grassy weeds, as well as effectively control malignant weeds such as horseweed herb and goose grass that have developed resistance to glyphosate.
Hammer (Glufosinate-P 10% SL)
Glufosinate-p has the advantages of high activity and low pollution. Its significance in terms of green, safety, and environmental protection is significantly superior to that of chemical synthetic herbicides such as Diquat, Glyphosate.
Product Features:
1. Glufosinate-p is absorbed more rapidly and has a stronger preventive and controlling effect.
2. Hammer is formulated with a pure active ingredient, making it safe, efficient, and no residue.
3. It is highly cost-effective and more environmentally friendly and ease.
Applications:
It is recommended to dilute 130~180ml of the product with 15L water.
 
Trial Results:
Dosage: 600 times dilution
Target: Orchard weeding

Before                      18 days after application


Before                      18 days after application


Before                      18 days after application