May is the beginning of maize growth, during which maize has not yet formed a large amount of green leaves. Hot and rainy weather conditions can accelerate the growth of weeds in the field. If weeding is not carried out in time, it will pose a great threat to the growth and production of maize.
Currently, commonly used herbicides for maize contain active ingredients such as atrazine or nicosulfuron, which can effectively control herbaceous weeds and some broadleaf weeds in the field, with minimal impact on maize. However, due to the increasing resistance of weeds such as barnyard grass and Alopecurus japonicus in maize fields. It is recommended to use Brightmart's Maizelent® during the period when the weeds have the least resistance, which is the 3-5 leaf stage of maize.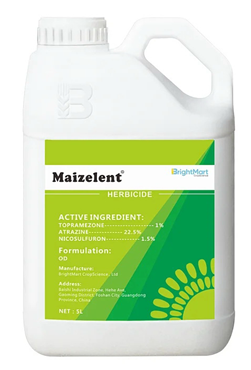 Maizelent (Topramezone 1% + Atrazine 22.5% + Nicosulfuron 1.5%)
1. Broad-spectrum: It has excellent prevention and control effects on common monocotyledonous and dicotyledonous weeds in maize fields, and has a special control effect on resistant barnyard grass.
2. High safety: This product contains a safety agent, and the low dosage of nicosulfuron makes it safe for many hybrid maize varieties. It can be sprayed during the 2.5-8.5 leaf stage of maize.
3. Quick-acting: This product uses imported topramezone TC and adjuvant agent, which can kill weeds within 3-7 days at around 30℃.
Trial Results:
Crop: Maize
Dosage: 200ml of this product dilute with 15L water.
Target: Monocotyledon & Dicotyledonous weeds

Before application                   7 days after application

Before application                   7 days after application

Before application                   7 days after application

Before application                   7 days after application